Julissa Cruz Bautista '25 represented Wesleyan at the Annual Biomedical Research Conference for Minoritized Scientists (ABRCMS) in Anaheim, California on November 9-12. Cruz Bautista, a prospective molecular biology and biochemistry (MB&B) major, presented a poster on research she conducted in Assistant Professor of MB&B Candace Etson's lab over the summer and concluded the conference with a certificate of achievement award for her work.
Born and raised in Los Angeles, California, Cruz Bautista, whose family hails from Oaxaca, Mexico, described the conference as being a transformative experience.
"Usually when it comes to science and doing research, I will only bring the scientific aspect of myself, but at the conference, I was able to bring my whole self," Cruz Bautista said. "I was able to bring my culture; I was able to bring my language…I got to learn from people who are similar to me, I got to see faces that I was like, 'She looks just like me!' I [met people who have] this similar background, and seeing them give a talk and give a presentation, I was like, 'Oh my God, it is possible.' The amount of representation and welcoming and openness was amazing."
Etson, who first attended ABRCMS as an undergraduate and has served as a presentation judge, in addition to her current role as Discipline Vice Chair, explained that the conference is designed to support students interested in pursuing a scientific career and aims to help them cultivate their identity as scientists.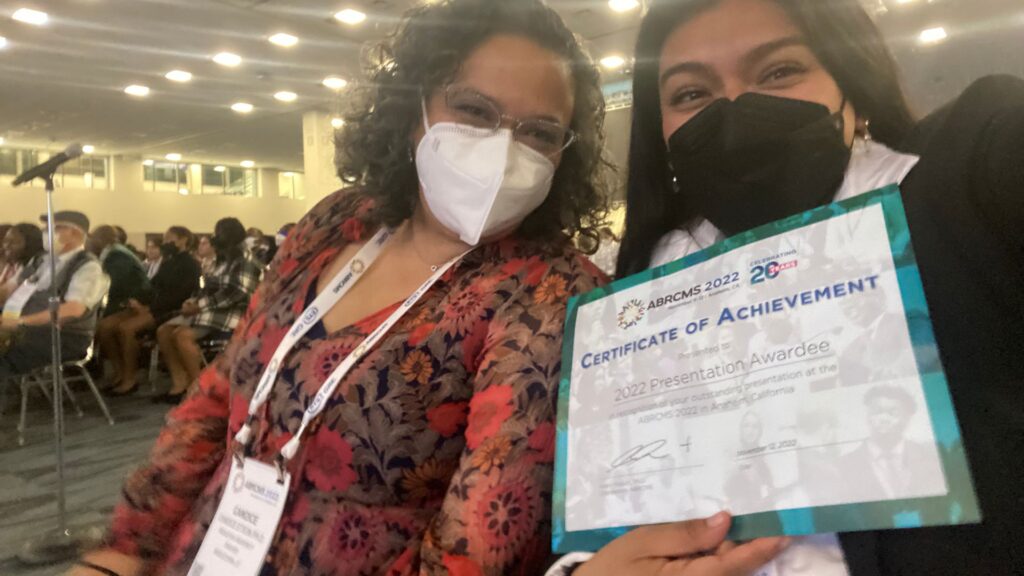 "The goal of the judging program goes beyond simply selecting who will receive an award for their poster or oral presentation," Etson said. "All of the judges are volunteers who are active scientific researchers and also passionate about supporting an inclusive STEM community. By having a chance to talk with professional scientists about their research, and be taken seriously and encouraged to continue their work, students can begin to see themselves as scientists, too."
Cruz Bautista applied for the conference and for a travel award, which she received and thus ABRCMS covered her trip expenses. Her poster featured summer research from the Etson Lab, focusing on type two restriction endonucleases with the aim of establishing the overall mechanism of how this type two restriction endonuclease called MVAI can cleaves DNA.
Cruz Bautista highlighted that one of the most valuable parts of the conference was networking with other scientists in the field.
"I already felt like I won something," Cruz Bautista said. "I didn't expect to win this [award]. I already felt like I won a lot talking to the exhibitors about their summer research opportunities and talking to grad students and even faculty from other schools. I felt so supported. And I came out with a bunch of advice on do's and not-do's."
At first, Cruz Bautista felt overwhelmed at being younger than most of the other conference attendees, although she luckily befriended her roommate, a sophomore from Vanderbilt University.
"It was a little bit nerve racking being there as a sophomore in the field among a bunch of older people," Cruz Bautista said. "But that nervousness quickly went away as I started talking and networking with the other students. It was almost as if they were taking me under their wing. It was so welcoming."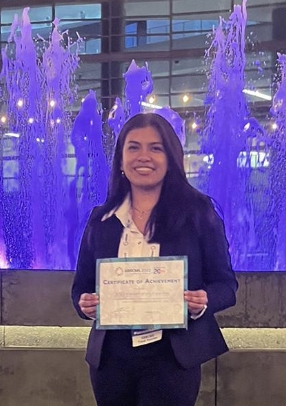 Etson emphasized how wonderful it was to attend the conference with Cruz Bautista, as Etson was able to help connect her student to fellow scientists.
"I enjoy attending ABRCMS no matter what, but it is much more exciting to bring a student along," Etson said. "I had a chance to introduce Julissa to people I know who might be able to help her as she charts her path as a scientist. We were able to compare notes on the various scientific and professional development sessions we attended, and nothing beats seeing your student receive an award! I hope to be able to bring many more students to ABRCMS in the future."
The experience of being surrounded by scientists from underrepresented backgrounds made Cruz Bautista feel seen in a new way. At Wesleyan, she belongs to the Society for the Advancement of Chicanos/Hispanics and Native Americans in Science (SACNAS), whose work relates to that of ABRCMS.
"It definitely made me want to push for more inclusion and representation and look for more opportunities to be able to expand not just one discipline of science, but other disciplines," Cruz Bautista said.
The conference also helped her realize that her scientific interests could take her in many different directions. Cruz Bautista plans to attend graduate school after finishing college and intends to get a PhD in the sciences.
"One thing about doing research in biophysics is that you're not solely relying on just the biology, but also the physics," Cruz Bautista explained. "And there's chemistry involved. There's a lot of crossover when it comes to that. The conference definitely opened my eyes to want to mix and match disciplines in this sense."
Cruz Bautista loves the scientific work she does because it allows her to explore questions of "how?" and "why?" and "what if?" in a very hands-on way. She initially felt hesitant about pursuing science in college because it seemed like a different world to her, but the conference reinforced why she loves her chosen field.
"I don't come from a family of engineers, scientists, or doctors at all," Cruz Bautista explained. "My dad works in construction and my mom has her own little business, but aside from that, science is an entirely different world to them….Seeing them [prior to the conference] served as a push for me, seeing my parents' efforts. They came here, and they learned the language. And I'm here now. It's just surreal. And this is a small step."