When Brynn Assignon, BA '20 MA '21, took science classes for the first time as a young girl, she was fascinated by the subject. But in her birthplace of Togo, a country in West Africa, opportunities in science were hard to come by.
"We didn't really have that many resources," Assignon said. "Science always seemed very fascinating to me and was something that I thought was so interesting, but I just didn't have the means to do as much as I wanted to. Even when we did scientific experiments, it would be only the teacher who would be able to demonstrate them for us because there weren't enough supplies for all of us to experiment with."
Despite the limited number of scientific resources available to her, Assignon felt a strong connection with the subject.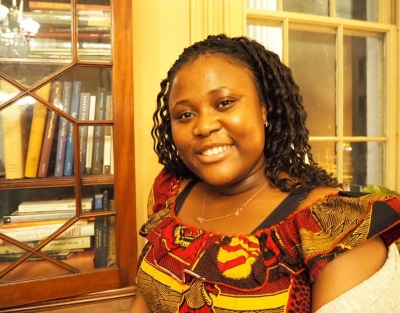 Just before starting high school, Assignon moved to the United States where she attended high school and Housatonic Community College before transferring to Wesleyan. Assignon knew she wanted to be on the Pre-Med track and had interests in chemistry and biology, so she decided to major in Molecular Biology and Biochemistry. Her interest in picking up French, a language she had spoken in her youth, led her to elect a French major as well. Although Assignon had been interested in science since she was a child, she didn't think that she would get involved with research at first.
"Research seemed super fascinating but like something that was out of reach to me, like something only specific people could do," Assignon said. "I didn't think there was a specific demographic group who would be the people in science– it was more that I didn't think it would be someone like me. I definitely thought it was someone who had been born here, someone who was smarter than me."
Assignon spoke to how her sense that she didn't belong in research stemmed from feelings of inadequacy that she had upon starting school at Wesleyan.
"At the time I was feeling very inadequate because before coming here, in my community college and high school, I was used to doing pretty well. And then once I came here, I started not doing so well," she said. "I felt very inferior to everyone else here and I didn't think that anyone would want me in a lab."
Lack of representation in STEM fields played a key role in the development of those feelings, as Assignon pointed out.
"I think a big part of what influenced that feeling of being inadequate was the fact that I didn't see many people who looked like me doing scientific things, so it didn't seem like something I should be doing," Assignon said.
Assignon credits Associate Professor of Chemistry and McNair Program Faculty Director Erika Taylor for encouraging her to get involved with research. While staying on campus for one summer, Assignon was introduced to Taylor and spoke to her about her search for a job. When Taylor offered Assignon a position in her lab, Assignon accepted.
In the Taylor lab, Assignon is currently working to build a chimeric enzyme, a structure composed of two different enzymes fused together. The chimeric enzyme would allow for the sugar typically added by one of the enzymes in the chimeric structure to be placed onto the substrate of the other protein in the structure. As a result, bacterial cells would be placing sugars in the wrong locations, weakening the cells and making it harder for them to fight antibiotics and grow resistant to them. Assignon has worked in the Taylor lab throughout her undergraduate career and is currently pursuing a master's degree in the lab through the BA/MA program.
In addition to serving as Assignon's research advisor, Taylor helped Assignon work through the feelings of inadequacy she felt.
"I talked a lot with Professor Taylor, and she was very nice about it," Assignon said. "She told me that if she didn't want me in the lab, I wouldn't be there."
Engaging in conversations with her friends and peers made Assignon realize that she was not alone in the way she felt.
"The more I talked to people, the more I realized that a lot of people were struggling to learn, and a lot of people felt like they weren't adequate either, so that was helpful," she said.
Thinking about the admissions process was also something that helped Assignon battle the notion that she didn't belong.
"I think the biggest thing for me was reminding myself that the admissions process is very rigorous," she said. "There is a reason why I was accepted here, so that meant I was good enough to be here."