Fitzroy "Pablo" Wickham '21, the 2021 Jamaica Rhodes Scholarship recipient, knew from a young age that he wanted to be a doctor.
"People always said I was smart and would do well in the sciences," Wickham said. "Coming from Jamaica, which is maybe traditional in our career choices, if you're smart people say 'Oh, you're going to be a doctor.' So from an early age, I was going to be a doctor."
Wickham was fascinated by the workings of the brain, so he decided to pursue a Bachelor's in neuroscience; however, he had always had a passion for theatre as well. When Wickham was first applying to colleges, he thought he would have to choose between neuroscience and theatre. He was accepted into schools where he could have pursued one major, but not the other, so he decided to take a gap year. Intrigued by the liberal arts style degree and open curriculum, Wickham submitted an application to Wesleyan.
"I visited at Wes Fest, right before I came as an actual undergrad, and I saw this small Jamaican community," Wickham said. "They were very welcoming. I was like okay, if I do come here and I do feel homesick, I can meet with these cool people who have had that experience and bond with them."
At Wesleyan, Wickham enrolled in the course Behavioral Neurobiology taught by Dean of the Natural Sciences and Mathematics Janice Naegele. Wickham particularly enjoyed learning about the function and workings of the visual system, as well as the role that neurons play in it.
"I'm a visual learner, so once I learned those concepts in class, I would go back to my dorm and watch YouTube videos or Khan Academy," he said. "Just seeing the animations made it so much cooler. I was like, as I'm watching this, this is what's happening as I'm taking this all in. It was mind-blowing, and it made me want to continue with the major and take higher level courses."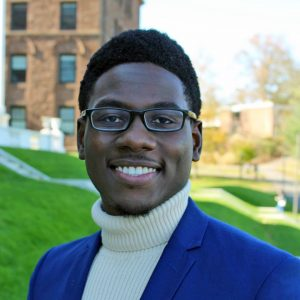 Wickham declared majors in Neuroscience and Theatre with a minor in Chemistry. He decided that he also wanted to explore research in addition to his classes, so he started looking into the websites of different neuroscience labs on campus. The Naegele lab in particular stood out to him.
"I wanted to join [Professor Naegele's] lab and was sending her emails freshman year," Wickham said. "She was like nah. And I was like, okay, cool. But I didn't give up. I kept asking her, 'can I come to your lab meeting,' and kept on her case each and every week until she said yes."
Wickham assisted members of the lab who were conducting projects to study the use of the drug Ivermectin as a treatment for epilepsy in mice. Most recently, he's conducted work on BA/MA student Jaye Jeong's thesis. The project involves using organotypic models, a type of 3D model composed of different cell types that allows researchers to mimic and study interactions within cell tissue, to characterize adult-born neurons in the mouse hippocampus.
In the summer after his sophomore year, Wickham interned at the biotech company Voyager Therapeutics in Boston, MA. During the internship, he studied the use of vectorized anti-tau antibodies to treat Alzheimer's in mice. The experiences he had while working as an intern led him to think more deeply about representation in the field of neuroscience.
"At Wesleyan, I hear the word underrepresented a lot; I feel like it's overused to the point that it no longer meant anything to me until I was immersed in an industry setting and seeing the lack of representation for myself," Wickham said. "I looked around and realized that there were maybe only two other Black scientists, and that was appalling."

"Somebody would point out, 'You're the only Black person in this class,' and I would look around and think that's odd, and it's also true," he said.The lack of diversity in both the Theatre and Neuroscience majors had stood out to Wickham during his time at the university as well.
As Wickham progressed through the neuroscience major, the dearth of Black students became even more pronounced to him.
"The higher I climbed, I suddenly became the only one," he said.
Noticing the lack of diversity in the major influenced Wickham's thoughts about whether he wanted to continue conducting research in neuroscience.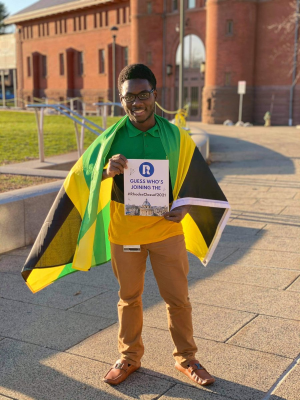 "Even if by that point I didn't want to do research, I felt like there was a huge responsibility on me to continue so that some young boy or girl from an underrepresented group could look at me and say, he did it, so I can do it too," he said. "Because I feel like it's important to see role models who look like you."
Wickham has struggled to find role models who have gone through similar experiences as him throughout his college career. Even when he is able to find mentors to talk to, he explained that talking freely with them isn't easy.
"Opening up to the role models you do have at your disposal can be very difficult because you don't know if they will fully understand what it is you're going through," he said. "Especially coming from a low income background, sometimes you have extra responsibilities compared to people from other groups; if you have to continually express that, it feels like you're making excuses, like you're not very interested in the research and that's not true. That's something I have had to really struggle with."
Wickham emphasized the pressure that he feels to perform well as one of the few Black students in the neuroscience major.
"When people see me, they don't see me, they see Black people," Wickham said. "I'm tokenized. I feel like if I don't make good use of the opportunity, maybe my actions will impact someone else's opportunity in the future. I constantly think about these things, and I feel like a lot of people from underrepresented groups do as well. When you try to break the glass ceiling, you're not doing it just for yourself, but you're doing it for your family, you're doing it for those you left back home, you're doing it for anyone who belongs to the same group as you."
Wickham discussed the importance of admissions for both students and faculty in addressing the lack of diversity in STEM at Wesleyan.
"We should be listening to students and hearing their concerns, and making sure that we're not speaking on behalf of the people we're advocating for because we made sure that they're here so that they can speak for themselves and voice their concerns," he said.
Wickham also called on Wesleyan to take a more active role in advocating for diversity and inclusion.
"We should not be happy comparing ourselves to peer institutions and saying, 'Oh, we fall well within the same range of what our peers are doing," Wickham said. "No. Be a trendsetter. You set the pace for them to keep up, because when someone does it then others feel much more compelled to do the same thing. I feel like in so many things Wesleyan waits for others to do it before following. We don't always have to be followers. We can be leaders."
Wickham will depart for Oxford University at the end of the summer, where he will pursue a D. Phil in Neuroscience. He plans on attending medical school after he has finished his degree.