For National Health Education Week this year, we are highlighting Dr. Mildred Rodríguez, the Health Professions Advisor and Program Coordinator for Wesleyan's Gordon Career Center. Dr. Rodríguez had no idea she would become an academic advisor for health professions. She was in the first generation of her family to go to college and, unlike students at Wesleyan, who have her to rely on for health professions advising, she had no one to turn to when she was studying Biology at the University of Puerto Rico (UPR). "[T]here was no such thing as an advisor; students had to figure it out on their own." She did just that and went on to carve a path for herself as a biology researcher and then a health professions advisor that would last several decades.
Dr. Rodríguez's love for science and math started when she was in grade school. It only grew when she joined a research lab for the first time in college.
"I love[d] science. Science was my thing. I had been thinking of majoring in math, but once I started doing research in biology, I switched. And, once you're involved [in research], you want to just keep going."
And she did. As an undergraduate, she worked in the lab of Professor Evelina Ortiz, who studied the effect of castration on the synthesis of DNA in the testes of the Anolis cristatellus lizard (a common island lizard).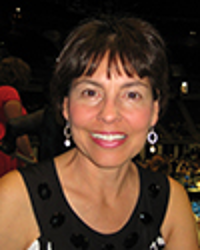 Rodríguez's main mentor at the time was her older brother, who also studied science at UPR and worked in the biology lab next door to Dr. Ortiz's lab. After two years in the lab, Rodríguez said there was no doubt in her mind that she was going to pursue a Master's. She got accepted to programs both in the mainland United States and in Puerto Rico but, ultimately ended up at the University of Western Michigan. Her research lab was trying to better understand the reproductive system of rats. Rodríguez and her colleagues would treat the rats with genetic mutation-causing chemicals (mutagens) and then observe what happened to their tissues (a field of study called histology).
Rodríguez then decided to take her newly earned Master's of Biomedical Sciences into the clinic. Rodríguez moved to Boston and ended up taking a position as a clinical lab technician at the Lemuel Shattuck Hospital. There, her work had immediate impact on doctors who would receive the results of research and use it to inform their practice at the hospital.
"[W]e did clinical assays for breast tumors," she explained. "[We] processed breast tumor tissue to determine the number of estrogen and progesterone binding receptors, [which] assisted doctors in assessing which therapeutic drug might be best for each patient."
She found this especially gratifying. "The information was used to determine which treatment a patient with breast cancer might receive," she added.
By that point in her career, Rodríguez had studied reproduction and how it gets disrupted in three living systems: lizards, rats, and humans. Next, she would apply what she knew to yet another organism: fish. Rodríguez did her doctorate research in a zoology lab at the University of Rhode Island. Her principal investigator (PI), Dr. Jennifer Specker, studied the physiology of local fish species. Rodríguez focused on the testicular development and regulation in Atlantic Salmon and ended up studying the phenomenon of precocious maturation in a percentage of the male population.
"We would release fish into the wild," Rodríguez explained. "Then we would go back [and]…they would become mature and try to fertilize female fish, these precocious salmon, that hadn't reached their full size, would sneak in and try to fertilize the eggs. And so that was an anomaly. So, we started looking at that."
Rodríguez described the five years of field work for her PhD as both interesting and fun. As someone who was fascinated by the similarities and differences between reproductive systems across diverse organisms, Rodríguez's PhD work only deepened her interest in science.
For family reasons, she wound up at Penn State for her postdoctoral work. There, she was a Ford Foundation Fellow. The day-to-day work of her research there fascinated her but, she also embarked on another opportunity in State College Pennsylvania that would ultimately change the trajectory of her career. In the evenings after her days spent in the lab, she would teach human physiology courses. It was here that Rodríguez got her first taste of interacting with students and advising them.
"[the students] would ask me for letters of recommendation [and] they would ask me for advice and that sort of thing," she recounted. "I found myself really enjoying that aspect of what I was doing."
Eventually she was hired as a non-tenured teaching faculty and coordinator of the newly created post-baccalaureate program at the university. Teaching and advising had piqued her interest and she ran with it.
"I'm a people person," Rodríguez remarked. "So, I've always enjoyed working with students, I get a lot of satisfaction from helping them put together their path [and] their plan."
She ended up playing a large role in establishing the Penn State post-bac program. In her time there, she developed and taught two new courses of study, one called "basic science and disease" and the other about medical professions.

When she came to Wesleyan, she took on a full-time health professions advising position. She had enjoyed teaching and working with students and was motivated to build a strong advising program for students interested in pursuing careers in healthcare.
Dr. Rodríguez developed many workshops for her students, which she still runs at Wesleyan to this day.
From the very beginning of her time in the Gordon Career Center, she knew she wanted to create personal statement writing workshops and mock medical school interview workshops. She later added a health professions competencies workshop for students entering the application process for medical, veterinary, or dental school. In Dr. Rodríguez's eyes, these workshops are a way to help students reflect on their academic careers before they start applying to graduate school.
"Every step of the way [I help] get them thinking about all the things they've done, and how all of these experiences have helped them become the physician that they want to be," Rodríguez says. "[I try to] get them to see all of [their path] in a really cohesive manner, so that they can make it part of their story."
One of the biggest decisions that Dr. Rodríguez helps her students make is whether they are ready to embark on the application process or not.
"[Part of my job is to help] them to think critically about their application, so that they make the right decision for them at that moment," Rodríguez noted. "Sometimes, it's making the decision to wait a year. [It's] important to help them to assess their candidacy for the cycle, [and ask themselves] am I as strong [a candidate] as I can be?"
Rodríguez uses the same big picture thinking that she honed as a biology researcher when it comes to helping students reflect on their academic record and craft applications to health professions programs.
Rodríguez says that after she retires from advising, she would love to go back and teach. "When I retire, I'll be going back to State College, Pennsylvania, [where] my daughter lives. They have this program for retirees. And I've already been visualizing a physiology course to help senior citizens get know what's going on in their [own] bodies. I'm looking forward to that."