My name is Kirstin Sylvester, and I am a Counseling Psychology Ph.D. Candidate at Oklahoma State University.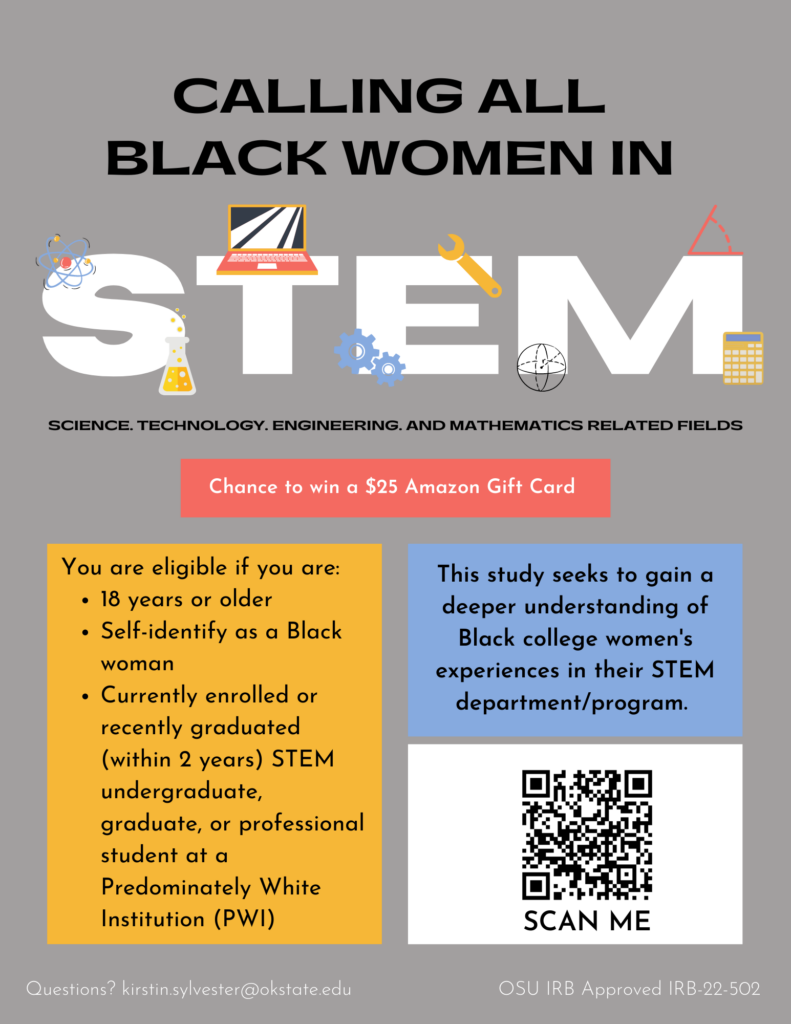 I am conducting dissertation research to explore the experiences of Black women in Science, Technology, Engineering, and Mathematics (STEM) related undergraduate, graduate, or professional STEM majors/programs. These related areas include agricultural sciences, biological sciences, computer science, engineering, mathematics, physics, and social and behavioral sciences (i.e., psychology, sociology, political science, and economics). For the purposes of this study, Black refers to persons of African descent. Participation in this study may inform colleges and universities of the nuanced experience of Black women in STEM majors/programs and how this knowledge can be utilized to improve future experiences of Black women in STEM. This study has been approved by the Oklahoma State University Institutional Review Board (IRB).
If you are: (1) at least 18 years old, (2) identify as a Black woman, and (3) are currently enrolled or recently completed (within 2 years) a STEM undergraduate, graduate, or professional degree at a predominately white institution in the United States, you are invited to complete a 30-minute survey. Participation in this study is strictly voluntary and you may refuse to participate or may discontinue participation, at any time without penalty.
Participants have the chance to win 1 of 10 $25 Amazon Gift Cards. At the end of the survey, a link will be provided that will route participants to a separate survey to list their email address and be entered into a drawing. The information in the surveys will not be able to be matched and your responses will remain anonymous if you choose to enter the drawing. Gift cards will be distributed via email after all data for the study has been collected.
If you are interested in participating in this study, please complete the survey at the following link: https://okstateches.az1.qualtrics.com/jfe/form/SV_6u6VYnJ7yGO8MEC. If you have questions or concerns, please contact the Primary Investigator Kirstin Sylvester at kirstin.sylvester@okstate.edu.
Thank you for your time and consideration of participating in this study!
Kirstin Sylvester, M.S., NCC (she/her)
Ph.D. Candidate, Counseling Psychology
School of Community Health Sciences, Counseling & Counseling Psychology
College of Education and Human Sciences
Oklahoma State University