by Madeleine Dickman and Rachel Wachman
The Molecular Biophysics program's annual retreat came back in full swing this year, with professors and students from several universities gathering at Wadsworth Mansion in Middletown last Wednesday, September 14. The retreat is a collaborative effort to bring together the minds of students, faculty, and researchers in the molecular biophysics world.
While the event was never canceled due to the COVID-19 pandemic, it was held virtually in 2020 and then in-person in 2021, but with strict COVID precautions in place. Last year's event was only open to Wesleyan students and faculty, except for the keynote speaker, who came from Columbia University in New York City.
"[Last year,] the keynote speaker was the only guest we invited and this year we are back to sharing [the event with the wider community] and we are excited to have them present" says Anika Dane, administrative assistant for the Molecular Biology and Biochemistry Department and the College of Integrative Sciences and a key organizer of the event.
At last year's event, masks were required and social distancing was strictly enforced, which most heavily affected the feel of the poster sessions. [Editor: masks were optional this year, but all of the spaces were opened for ventilation.] Dane was excited that this year's retreat would welcome faculty, speakers, and students from other universities in Connecticut as well as outside of the state.
"We are a small university for scientific research so it's important to have connections with our neighbors," Dane added.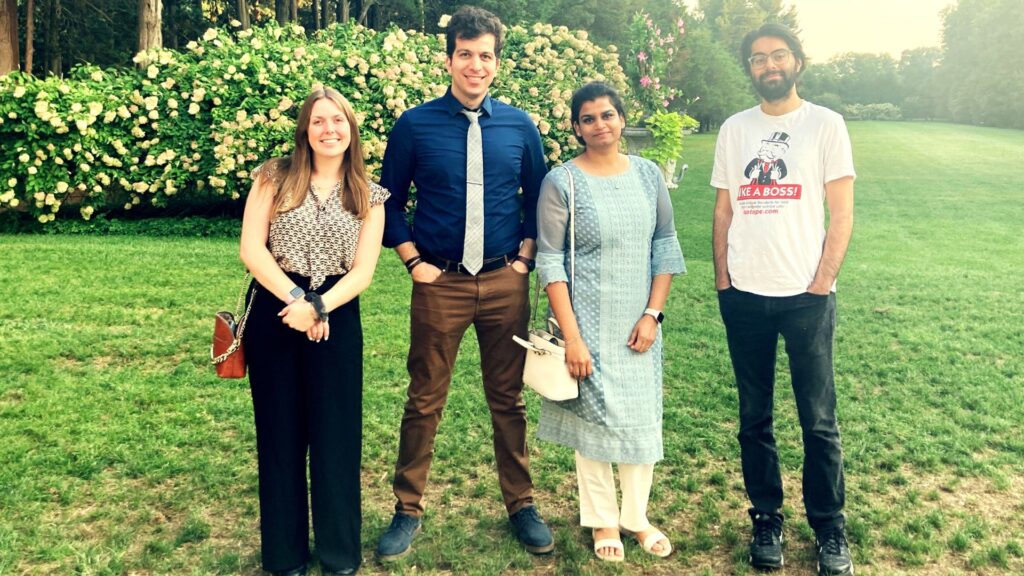 The event began with talks from two Wesleyan faculty, Dr. Jennifer Mitchel, Assistant Professor of Biology and Dr. Colin Smith, Assistant Professor of Chemistry.
The second half of the day welcomed a talk from Wesleyan alumna Dr. Rachel Leicher '15, a principal scientist at Novartis Institutes for BioMedical Research (NIBR), titled "Single-stranded nucleic acid binding and coacervation by linker histone H1. Leicher graduated from Wesleyan in 2015 with a degree in Chemistry, Biochemistry and Molecular Biology, and Molecular Biophysics and received high honors for her senior thesis, titled "The Role of Histone H1 in Saccharomyces cerevisiae". Dr. Leicher went on to do her doctorate research at The Rockefeller University in New York City, which is a part of the Tri-Institutional PhD program. Her talk focused on the project she completed during her PhD, in which she utilized biophysics techniques to help us understand more information about histones, the proteins that act as scaffolding for DNA to wrap around in the nuclei of cells.
In a conversation with Dr. Leicher after her talk, she emphasized how the molecular techniques she learned about in her undergraduate research at Wesleyan ultimately served as a jumping off point for the research she would complete as a graduate student. It was David Beveridge, the now Emeritus Professor of the Sciences and Mathematics, that got Leicher interested in optical tweezers, a biophysics technique that was critical in her doctorate project. The technique allows scientists like Dr. Leicher to use laser beams to control individual microscopic elements, such as nanoparticles or droplets, in an extremely precise manner. Dr. Leicher was ultimately very glad to be back sharing her more recent projects with the professors that taught her so much when she was an undergraduate at Wesleyan.
Another highlight of the day were the poster sessions, which happened between the faculty and alumni talks. Both undergraduate and graduate students presented their research in an exposition format, telling guests and each other about their laboratory work. Topics ranged from the use of Nuclear Magnetic Resonance (NMR) spectroscopy to characterize proteins to the use of optical tweezers in better understanding interactions between DNA and proteins. Undergraduate and graduate students alike seemed eager to present their work and learn from their colleagues from other institutions.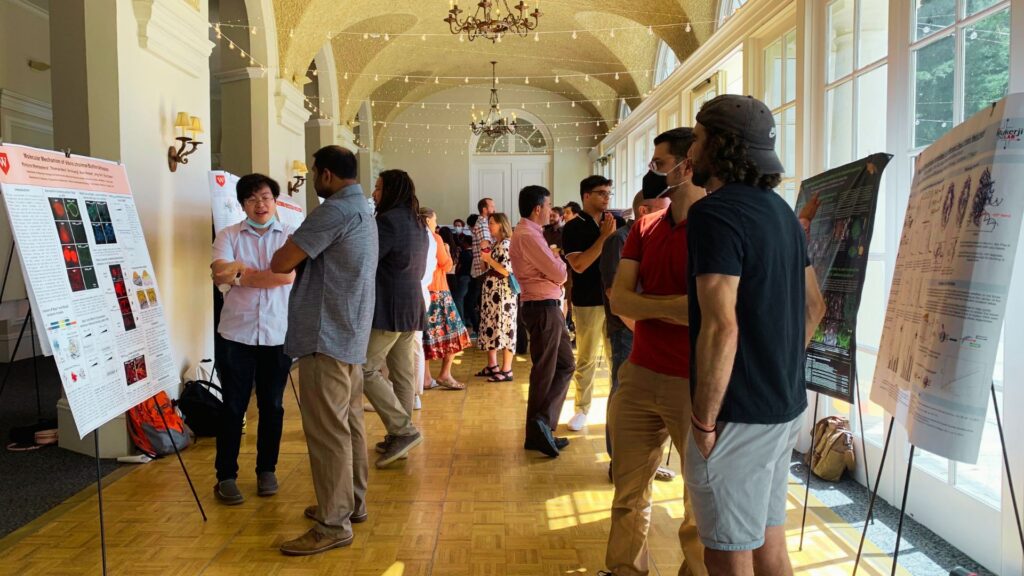 "It's really great that people from the Wesleyan community can come together and share the research they've been working on [and] foster collaboration and cross-pollination of projects," said Bernard Chedekel, a B.A./M.A. student in Professor Amy MacQueen's lab, who was not presenting his research at the retreat, but who attended to hear about the work of his professors and classmates.
Daniel Fairchild, a second year Biomedical Science PhD student at the University of Connecticut who presented his research during the retreat's poster session, echoed this sentiment. "It's been cool to see how different approaches have been used to solve the same problems."
Later, Dr. Rich Olson, Associate Professor of Molecular Biology and Biochemistry, also gave a talk. The Olson research lab at Wesleyan seeks to understand "the structure and function of integral and peripheral membrane proteins" using biophysics techniques such as X-ray crystallography.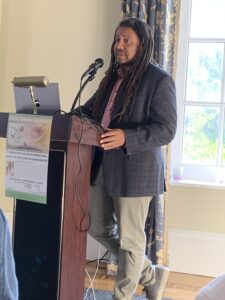 One of the most highly anticipated events of the day was the keynote speech, delivered by Dr. Bil Clemons, a professor of biochemistry at the California Institute of Technology. His talk was titled "A mechanistic look at tail-anchored membrane protein targeting — the catalytic cycle of the targeting factor Get3."
"As a professor, a key part of academic research is being able to share the results of your team," Clemons said. "It is important to make sure that the knowledge they have generated gets shared with a broader community."
Clemons, who received his B.S. from Virginia Tech and his Ph.D. from the University of Utah while working under Nobel laureate Professor Venki Ramakrishnan, now specializes in structural biology. He has been working at Caltech since 2006 and was elected to the National Academy of Sciences earlier this year, in addition to being named a fellow of the American Society for Biochemistry and Molecular Biology.
At Caltech, Clemons's lab works to understand how cells function on an atomic level through the structural characterization of different key biological systems. This research includes studying tail-anchored membrane proteins relating to the GET pathway; glycobiology through peptidoglycan biosynthesis and N-linked glycosylation, and enhancing membrane protein expression. Additionally, his lab has solved multiple significant structures vital for cellular function using X-ray and NMR spectroscopy.
"Personally, as a fundamentally curious person, the career path I have chosen has allowed me to always follow my curiosity," Clemons said. "It has given me a chance to constantly learn and ask questions about the world around me. It is an incredibly exciting time to be a scientist."
On top of his scientific work, Clemons also advocates for diversity at CalTech, serving as the chair of the president's diversity council. In fact, before launching into the scientific content of his talk, Clemons decided to trace the history of enslaved Africans in the Americas to give his audience — a combination of professors, students, and community members — a better idea of what scientists of color must overcome on the scale of history to be able to do the work they do.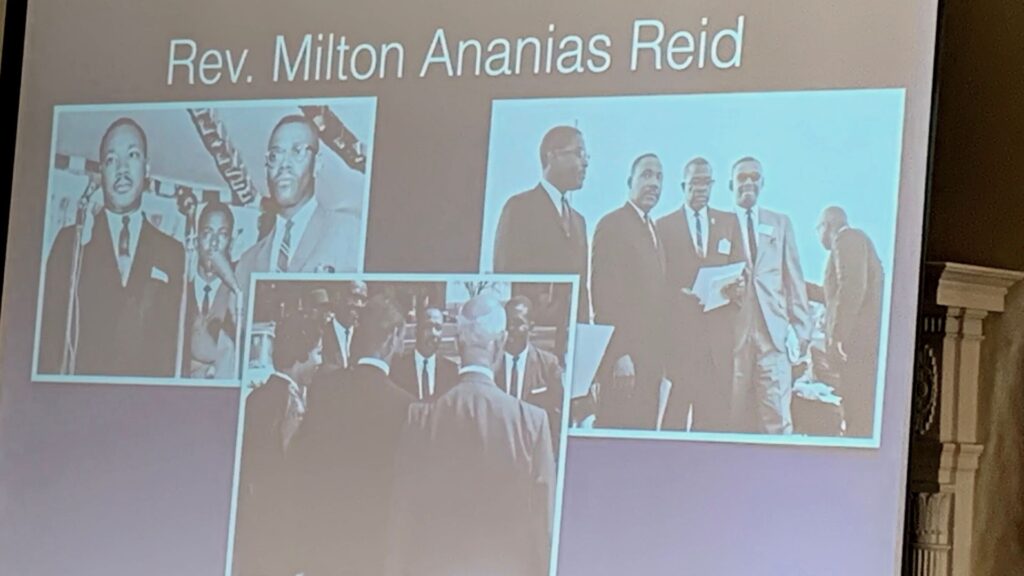 "My efforts to promote inclusion are central to my identity," Clemons explained. "It is important, especially in academia, that we work to make sure that we bring as many perspectives as possible to address the world's problems. This means that we acknowledge areas where we need to improve, develop evidence-based methods to address these areas, carefully define and analyze what is working or isn't, and then try again to improve."
Clemons began his talk by projecting the date 1619 onto the screen, using it as a launching place for a discussion of slavery as a precursor to what would become the United States, since this was the year the first enslaved African was sold to the Americas.
"So we often think about America, starting in 1620, that slavery was already here on our shores," Clemons said in his talk. "We can't disentangle that reality that slavery, and that original cinema of America, is built into the very heart of who we are."
Clemons emphasized the long history of racial discrimination in the United States, stressing that the struggle for equality continues today.
"How do you overcome the 10x difference in wealth?" Clemons asked the audience. "It's just not possible unless the system fixes itself. I just challenge everyone to kind of keep this kind of thing in mind as you move forward and think about your own connection, your own ability in these areas….We're all doing it to actually make change."
While visiting Wesleyan, Clemons had the opportunity to learn about efforts to build inclusion on campus.
"I hope that these will continue to expand," he said. "This is especially important, not just in making sure historically underrepresented students feel safe, but that all students together create a space where everyone is welcome as their whole selves."
The rest of Clemons's talk consisted of explanations of his current research, followed by a Q&A session with the audience. His speech garnered high attendance, everyone in the room sharing the common thread of wanting to learn more about Clemons's work.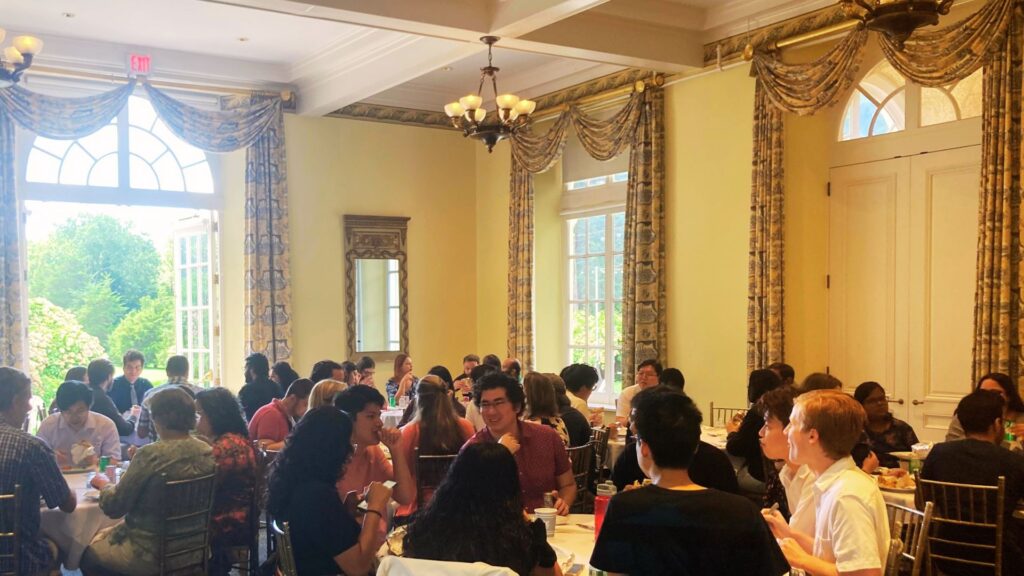 Professor of Physics Fred Ellis explained that he's always been interested in biophysics, with his interest growing over time the more he's learned about the subject.
"[Events like this] bring people in," Ellis said. "It generates a large [number] of students and graduate students and brings departments together."
University of Connecticut student Sam Mahdi said he came to the talk because of the opportunity to learn from others in the field.
"It's interesting research," Mahdi said. "You find new tools, you see new science, it gives you ideas for your own work. And it's fun."
Tai Lon Tan, who does research in the Mukerji lab and presented at the poster session earlier in the day, echoed Mahdi's sentiments.
"It was a great chance for us to gain more insight on what everyone else is doing," Tan said. "It's so easy for us to think in terms of our own department, our own labs. Having someone so accomplished and being able to gain any knowledge from them is a big deal."
Clemons shared how pleased he was with his experiences attending the conference and delivering the keynote speech.
"Personally, getting to meet dynamic faculty and talented students at other institutions is always a pleasure," he said. "I'm happy to have made new connections."
Photos by Anika Dane and Ishita Mukerji.